Bibliografía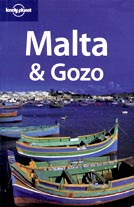 Guías de viaje
Malta & Gozo. Carolyn Bain. Lonely planet. Agosto 2004.
Malta. Eladi Romero García. Laertes. Junio 2004. Barcelona.
Libros
The Hal Saflieni Hypogeum Paola. Anthony Pace. Insight Heritage Guides. 2004. Malta.
The copper age temples of Hagar Qim and Mnajdra. Them. Zammit.
Malta 1565 Last battle of the Crusades. Tim Pickles, Christa Hook. Osprey Publishing. 2004. United Kingdom.
Malta Gozo y Comino. Retrato de un viaje. Geoffrey Aquilina Ross y Jonathan Beacom. Nomad Travel Portraits. 2001. Malta.
Malta y sus islas. Aldo E. Azzopardi. Casa Editrice Perseus - Plurigraf. 2002. Sesto Fiorentino.
Información en la web
Viajes a Malta - GRETUR - Viajes organizados y a medida e información diversa y útil sobre Malta.


---
Para cualquier comentario o consulta puedes escribir a: